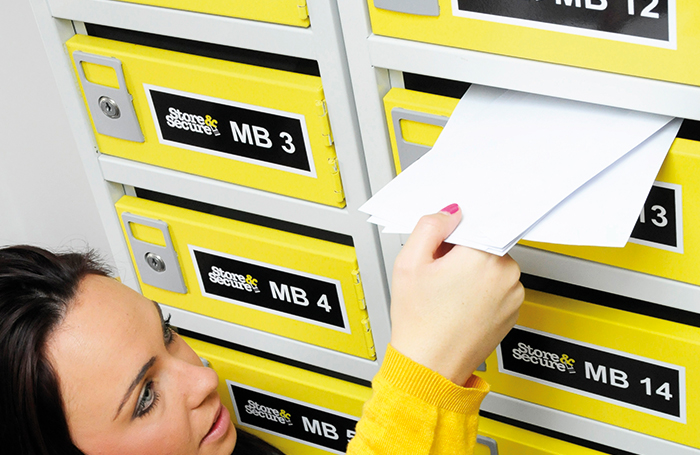 It seems as though PO box rental has been around since the dawn of time, but until now renting a mailbox has not always been accessible to many of us. As the volume and demand for mailbox rental grows in the UK, we take a look at the top reasons why people rent PO boxes.
1. What is a PO Box?
A post office box (or PO box for short) is a private and secure mailbox with a unique address, originally located at a post office. Nowadays mailboxes can be rented from a variety of providers, including storage facilities like Store & Secure. PO box rental services allow a user to receive post at a different address than their place of residence or business address.
2. PO box rental for businesses
Whether you're a big or small business, PO box rentals and storage is extremely useful for businesses. Large businesses have been using private mailbox rental for decades as a way to maintain privacy. Many businesses such as banks, call centres, insurers and mobile phone companies have several branches or stores across the country and prefer post to be delivered to a secure and controlled address. It's not dishonest, it simply prevents important documents from being scattered around various addresses. PO box rental also helps to manage direct post. Rather than all post going to a head office, post can be forwarded from PO box storage to the correct place without manual sorting.
And let's not forget small businesses. The UK has a booming start-up and small business market that make the most of mailbox rental. With so many small businesses starting at home and working from home, it's important to keep work and home life separate. PO box rental allows small businesses to stay professional while keeping their home address out of the public eye. At Store & Secure we offer a range of business self-storage spaces and mailbox rental solutions for all business sizes.
3. Private mailbox rental for frequent travellers
People who travel a lot, or who are going to be out of the country for an extended period, often rent PO boxes. Mailbox rental provides a simple, hassle-free solution to storing your post while you're away; somewhere where you don't need to worry about someone being in to receive a parcel or letter. It's also a nice way to keep the post from piling up at home. After all, the last thing you need when you walk through the door after time away is to face unopened letters!
Similarly, Expats who no longer have a home address in the UK may need somewhere for their letters to go. A mailbox rental service could be the way to go, and some even offer online management which means they can check in and read their mail from anywhere in the world. When you rent PO box storage at Store & Secure we will receive your post and can even forward it to you, no matter where you are.
4. PO box storage for bloggers and e-marketers
Blogging and e-marketing have become a huge part of modern life, and many people ditch their day job in favour of sharing their experiences or knowledge with others online. Bloggers often have tens of thousands of followers and subscribers; fans who want to get in touch, so it's no wonder they want to keep their home address private.
PO box rental means that any fan mail can be delivered to a secure self-storage facility where they can collect and read when they need to. In the UK it is a legal requirement for anyone sending out mass emails to include a postal address. That's another way mailbox rental can help. By using a PO box mailing address for recipients, e-marketers can maintain an element of privacy whilst not breaking the law.
5. Mailbox rental for home renters
People who rent also rent PO boxes for peace of mind. There is a large proportion of people in the UK who rent their homes, many of whom move frequently. That means that there's usually a lot of paperwork involved when it comes to changing addresses and post can go astray. Mailbox rental can be incredibly valuable to anyone renting a property as they provide a fixed address that doesn't require updating, removing the need to set up redirections or contact companies to update this information. Store & Secure offer an ideal PO box rental solution as they can be accessed 7 days a week, with easy-access parking and friendly, helpful staff during opening hours.
Whether you're a business owner or you're looking for mailbox rental for personal reasons, we offer PO box rental for as little as £5 a week. Get in touch with us today to find out more. You can call us on 01256 444 455 (Basingstoke) or 01202 520 220 (Bournemouth). Our friendly team are here to help you find a PO box storage solution, at the best price. And if you find a better offer, we will match it!