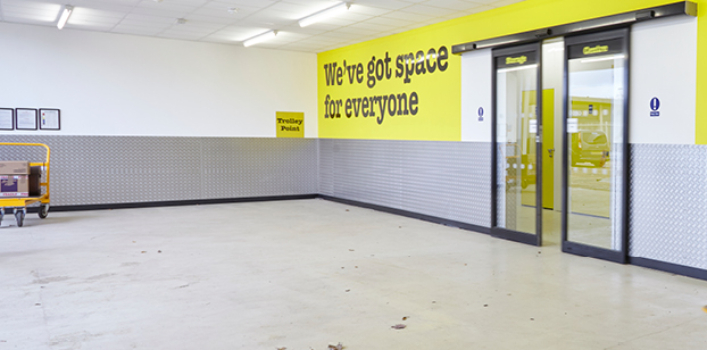 If you have a disability and are worried about how accessible self-storage is, we're here to put your mind at ease. At Store & Secure we pride our self-storage units on their accessibility for all. Find out how we make self-storage accessible and hassle-free.
1) Disabled spaces & drive-up storage space
At both our Store & Secure locations, we have plenty of parking spaces for all our customers, including dedicated disabled spaces right next to the ramp to our reception.
To make things even easier, we also have drive-up storage spaces. This is ideal when you are moving to store large amounts or transport heavy items that require the use of our trolleys.
2) Extra-wide corridors
Our storage facilities have extra wide corridors, so that there is enough space for wheelchair users and customers that require a guide dog by their side.
We also have smooth and flat walkways, making it safe for customers using wheelchairs, crutches or those with visual impairments.
3) On-site assistance & recommendations for removal companies
At Store & Secure our helpful team are on hand to help you with your accessibility requirements, seven days a week. We can give you storage advice, help you load and unload storage units and more to ensure you get the most out of our facilities.
Our range of storage units are available at different widths and heights, find out the most suitable one for you with our self-storage size guide.
4) Free access to trolleys, lifts and pallet trucks
We offer free access to our trolleys, lifts and pallet trucks and are happy to assist you in any way possible. If you would prefer to use self-storage units on the ground or first floor, please get in touch and we will do our best to help.
5) Assistance dogs allowed
We are proud dog lovers at Store and Secure and we are more than happy to accommodate assistance dogs during your visit.
Store & Secure is a leading storage company, offering cost-effective and secure storage solutions and self-storage boxes.
To enquire about our personal or business storage in Bournemouth and personal storage in Basingstoke or to learn more about our accessible facilities, get in contact with us today on 01202 520 220 (Bournemouth) or 01256 444 555 (Basingstoke) or send us an email at info@storeandsecure.co.uk.