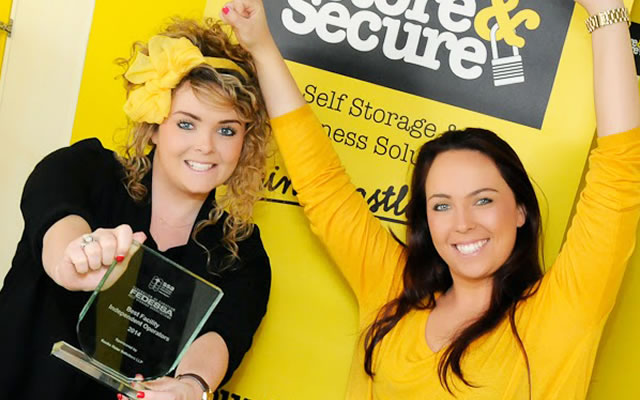 Double Top Award Winners – Not Just UK, But EU too!
Following hot on the heels of our win as the UK's best independent self-storage operator… now we have won the same top award– for the whole of Europe!
Our facility managers Lucy and Sophie Maidman have come away from the ceremony in Stockholm, Sweden with the award for 'Best Facility Europe, Independent Operators 2014'.
The awards were held jointly by The Federation of European Self Storage Associations(FEDESSA) and the Self Storage Association United Kingdom (SSA UK).
The official press release follows soon, but just to say… all self-storage companies entering the awards were judged on various aspects, including what makes the business stand out from the rest, how it meets the needs of its local market, how well the business is performing and what investments have been made for its future.
Rennie Schafer, CEO of FEDESSA, said: "Store & Secure self-storage is a family-run business which puts customer service and being part of the community as a priority. Every customer is treated as a 'guest', that includes providing them with tea, coffee, biscuits – and even ice cream in the warmer weather! 
"They have an immaculately presented site, which shows their impeccable attention to detail. The staff are thoroughly involved in the local business community so they are the top of mind storage solution for all the local businesses.
"All this, combined with their complete commitment to customer service in everything they do, has allowed them to produce performance results that are well above the normal for their location."