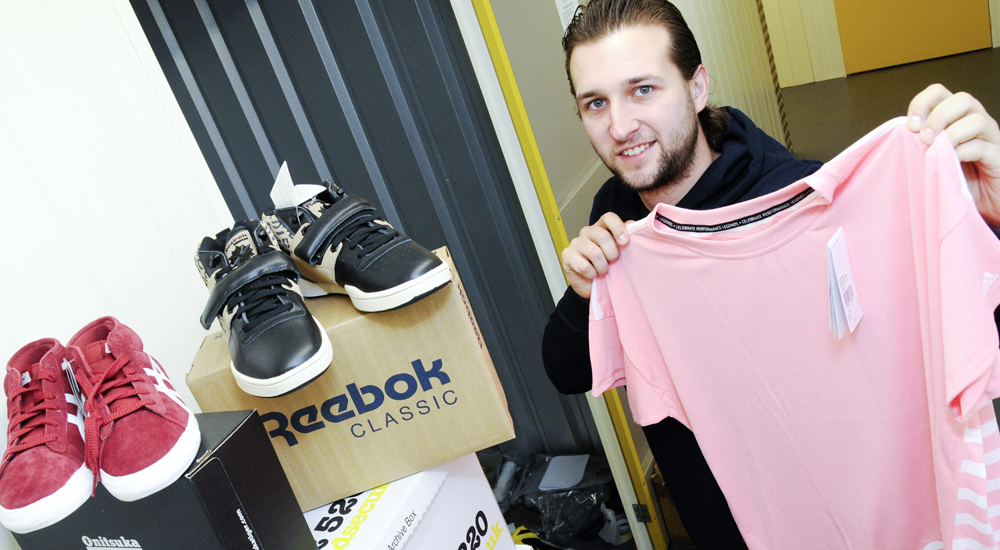 When Liam Palmer started his internet business L-Labels two months old, he had planned to store stock in his garage, but realised he couldn't be there for deliveries and sending goods, as he works full time.
Then he discovered that Store & Secure self-storage in Bournemouth provides a free service for goods-in and out, enabling Liam to call in after work to check everything in. Now he runs his limited company from his home office, selling sports shoes and clothing on eBay, and stores his stock with us.
He said, "It has saved me a lot of time and effort – in fact, without Store & Secure's service, I couldn't run my business and work full-time. The cost of renting a room is cheaper than hiring premises with all the add-on costs of business rates, utilities, parking and security – which has enabled me to sell goods at very competitive prices."
Liam's future plans are to get fully established on eBay, then spread to Amazon and eventually sell online from an eBusiness website. And he knows he can expand or contract his storage unit area at Store & Secure to mirror his stock requirements easily and with no fuss.
"I'm an avid internet buyer myself, I rarely go to shops. I play a lot of sports and mostly wear sports clothing and have good knowledge of the products I'm selling."
His first product lines were a selection of clothes and shoes that he researched as popular lines on eBay and found suppliers for them. He said: "I was fortunate and managed to find items that all sold well, right from the start. I am gradually extending the range, testing each product to see if they sell well and that I have got the prices right. It's going very well!"
So, if you've been thinking of launching an online business, talk to us today about business storage in Basingstoke or Bournemouth… and let's do it!
LIAM'S TOP TIPS FOR NEW EBAY SELLERS:
• Use very clear photography – he hires a professional photographer to do his,
• Fine-tune each product description, researching how other successful sellers are describing each item,
• Check in completed listings to make sure that an item is already selling successfully and at what price,
• Do everything that eBay recommends to help you appear high in its listings.
Want to learn more about the benefits of business storage in Bournemouth or self storage in Basingstoke? Contact our informative team now on 01202 520 220 (Bournemouth) or 01256 444 455 (Basingstoke).