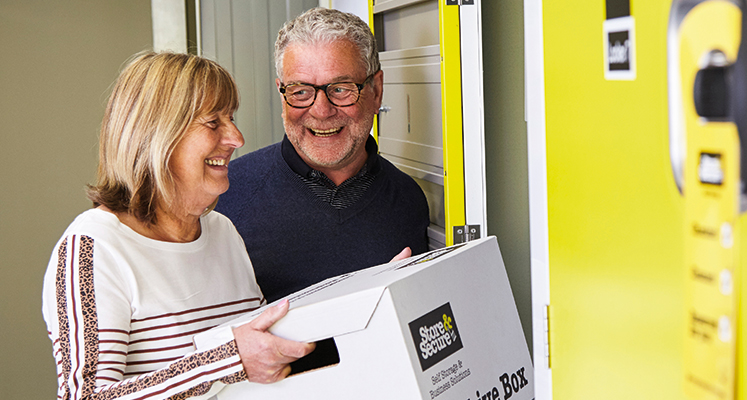 Holding your items with a storage company, allows you to free up more space to use at home, offer additional security to keep your possessions safeguarded, and protect them from the typical wear and tear that would happen when storing in a garage.
At our storage units in Bournemouth and Basingstoke, we accommodate for all purposes, from student storage to personal or even business storage. At Store & Secure, we like to make the storage process as easy as possible for our customers. That is why we have compiled a list below of essential packing supplies you should need when moving your things into a storage unit. Especially for those who are moving belongings into a storage unit for the first time, it is essential to be prepared when knowing what supplies to bring.
Moving Boxes & Packs For Self Storage
The staple packing supply. Having suitable sized moving boxes is a top priority. These allow you to pack with structure, by grouping items together in categories, and packing several in one place. Additionally, holding your belonging in boxes will enable you to keep your storage unit organised in an efficient manner. You can choose to package your belongings in whatever type of box you want, such as cardboard boxes or plastic tubs, although carboard boxes are generally cheaper.
We offer moving boxes and other additional products at our Box Shop, which you can purchase for whenever necessary for your self storage in Basingstoke or Bournemouth.
Label Your Storage Boxes
Labelling your boxes allows you to know exactly what is in each box if it's not visible. This will ensure time isn't wasted having to open up individual boxes to find out their contents, and will equally save you the time of having to repack and seal those opened boxes afterwards.
Bubble Wrap Your Fragile Items
Of course, fragile belongings should most definitely be packaged with bubble wrap! If your trolley is a little bit overloaded, there's always the chance items could fall off in the process. Bubble wrap is a marvellous insulator against impacts. Therefore, having fragile items wrapped in bubble wrap will ensure that they have that extra layer of protection.
Other Protectors For Your Storage Boxes
Similarly to bubble wrap, protectors are another method of adding an extra layer of precaution. Not all chairs and larger belongings can be bubble wrapped, so having protectors for those larger items is always good to consider. As well as chair protectors, dust covers are another great manner to keep those possessions protected. Items in storage units can more than often be stored for long periods of time, and during that time they are likely to collect dust. If not protected properly, this can cause a lot more harm than good and actually result in irreversible damage to your holdings.
Tape Your Boxes
Now, there's no use having labelled packaging boxes with bubble wrapped items inside if you don't seal them! Having a tape gun or tape roll is a must have essential packing supply. Even having one handy and ready to use in your storage unit will mean boxes can be resealed if opened at no extra hassle.
Lock Them Up And Keep Them Safe
Keep those items safe! Padlocks are vital if you want to keep your items safe from any potential malice. It's always wise to bring a good stealthy padlock, just in case the storage company ask you to provide your own. At Store & Secure however, we offer padlocks which can be purchased, but this feature is optional and your own choice, should you wish to do so. Just remember the vital part, don't lose the key! However, should this happen, all is not lost – our friendly staff will obviously be able to help you to access your belongings!
How Will I Carry All My Boxes Once Packed?
It is important to note that our storage company, Store & Secure, provide trolleys to all our customers and that there are lifts available for getting to the floors. This is available at both our  storage units in Basingstoke and Bournemouth. No need to make multiple unnecessary journeys back and forth with one item at a time, with our trolley service, you can pack numerous possessions all on one trolley. Not only will this save you time, but you also won't have to break your back lifting and carrying heavy items up and down flights of stairs.
Store & Secure offer a wide range of self storage in Bournemouth and Basingstoke. If you'd like to know what packing materials we offer, have any security related questions or would like to make a general enquiry about our storage company, please contact us on 01202 520 220 (for Bournemouth) or 01256 44 455 (for Basingstoke), and we will be happy to assist you further.
Alternatively, you can also complete an online storage quote, or online contact form and we will get back to you as soon as we can.